Romancing The Soul:

Journeying Through The Archetypes

April 18-May 16

7:00pm-9:30pm

In these five classes, we will delve into the universal energies and inner archetypes of the
Warrior, Lover, Visionary, Teacher, and Healer.  As a group, we will engage in a creative transformational process involving journeying, meditation, sound, movement, poetry, art, intuition,
and ceremony. In this way, we will learn the art of interpreting the magical language of our soul and inspired heart wisdom. Come out to play and widen the landscape of your inner horizons. 
Our world will be transformed as a result!

April 18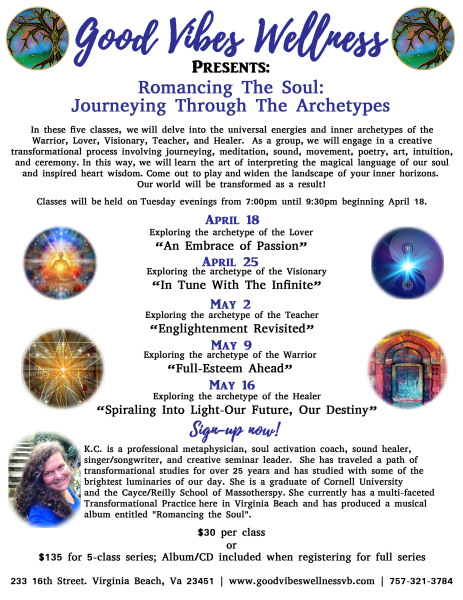 Exploring the archetype of the Lover

"An Embrace of Passion"

April 25

Exploring the archetype of the Visionary

"In Tune With The Infinite"

May 2

Exploring the archetype of the Teacher

"Enlightenment Revisited"

May 9

Exploring the archetype of the Warrior

"Full-Esteem Ahead"

May 16

Exploring the archetype of the Healer

"Spiraling Into Light-Our Future, Our Destiny"

$30 per class

or

$135 for 5-class series; Album/CD included when registering for full series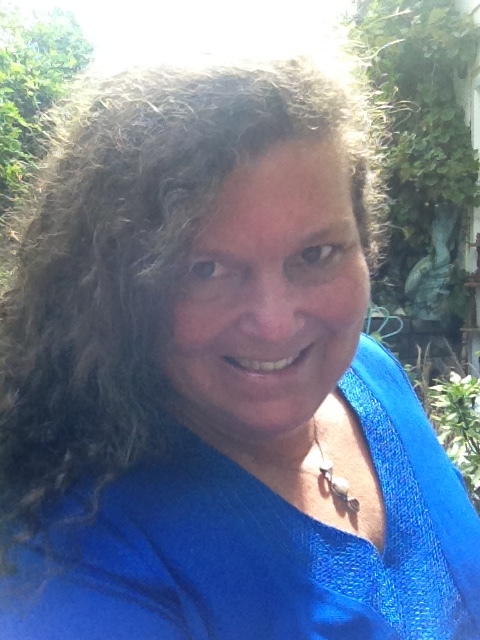 K.C. Johnson

K.C. is a professional metaphysician, soul activation coach, sound healer, singer/songwriter, and creative seminar leader.  She has traveled a path of transformational studies for over 25 years and has studied with some of the brightest luminaries of our day. She is a graduate of Cornell University and the Cayce/Reilly School of Massotherspy. She currently has a multi-faceted Transformational Practice here in Virginia Beach and has produced a musical album entitled "Romancing the Soul".